TigerSoft - www.tigersoft.com 12/30/2007 --- by William Schmidt, Ph.D.

3/20/2008
Three months, too late, Cramer places Killinger at top of his Hall of Shame.
3/5/08 - Killinger fixed WAMU Bonus system so he can again score big in 2008.
Despite fall of his company's stock from 46 to 6.
6/1/08 - Killinger removed as Chrmn of Board. Still CEO. Why?

Insider Trading: News and Reviews: Articles Found on the Net
See www.tigersoft.com Use TigerSoft Scans ...for insider trading. It shows you how
to trade profitably in an age of rampant insider trading.

TigerSoft Offers:
Peerless Stock Market Timing: 1928-1966
Track Record of Major Peerless Signals
Earlier Peerless-DJIA charts
7 Paths To Making 25+%/Yr. Using TigerSoft
Index Options
FOREX trading
Investing Longer-Term
Mutual Funds
Speculative Stocks
Swing Trading
Day Trading
Stock Options
Commodity Trading
====================================================================================
3/20/08 RAMPANT INSIDER SELLING and
UNCHECKED GREED AT WASHINGTON MUTUAL (WM) ..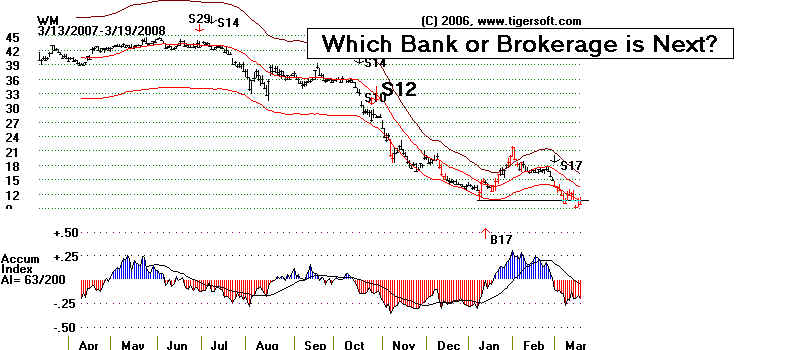 3/20/08 Update on Washington Mutual's Board of Directors Rampant Greed.
from Michael Brush 3/19/08
| http://articles.moneycentral.msn.com/Investing/CompanyFocus/WaMuSkipCustomersSaveTheExecs.aspx
Washington Mutal has the reputation of "tough guy" when someone falls behind on their home payments.
But it lavishes high pay on its CEO and has just made it easier for its executives to get millions in bonuses.
All this in a company whose stock is falling, falling, falling and is now below $10. Profits or successful
loans are too hard for these million dollar thieves. The new rules give executive bonuses for customer
loyalty and ATM usage. "If the bank meets its watered-down performance hurdles this year, Killinger
stands to pocket $3.6 million as a bonus for 2008, or about 365% of his base salary...For meeting the new,
lowered bonus hurdles, Chief Operating Officer Stephen Rotella would get a $2.8 million bonus,
or 304% of his base pay this year. And Thomas Casey, the finance chief, would get $1.2 million,
or 179% of his base pay.
Google Washinton Mutual bankruptcy and you see how far ranging other complaints are
against them:
(1) Non-diclosure to share-holders about non-performing loans.
(2) NY Attorney General alleges "that WaMu pressured eAppraiseIT to inflate home appraisals."
It is alleged that their loan officers willing to make all kinds of misrepresentations to close loans.
(Source: http://accruedint.blogspot.com/2007/11/washington-mutual-what-i-have-told-you.html )
(3) "Washington Mutual, Bank of America Corp., JPMorgan Chase & Co. and Citigroup Inc.
spent $25 million in 2004 and 2005 lobbying for a legislative agenda that included changes in bankruptcy
laws to protect credit card profits, according to the Center for Responsive Politics, a non-partisan
Washington group that tracks political donations. The banks are still paying for that decision. The surge
in foreclosures has cut the value of securities backed by mortgages and led to more than $40 billion of
writedowns for U.S. financial institutions. It also reached to the top echelons of the financial services
industry.
(4) Grotesque over-charge fees by Washington Mutual.
(5) Washington Mutual Visa Doubles Interest Rate with no warnng.
(6) Washngton Mutual employees steal identity to get loans and lines of credit.
(7) "A friend of mine got into a argument with wamu over a fee on his mortgage he won't pay so
Now they have returned his checks and are starting forclosure he has hired a lawyer does not sound
like they need the money" Source


===================================================================================

Insider Selling at Washington Mutual and CitiGroup
Should Make Shareholders "Mad as Hell". 12/30/2007


Small Shareholders Are Always The Last To Find Out That Their Money Has Been Taken.
Insider Selling by Robert Rubin at CitiGroup (see below)

CEO of Washington Mutual (WM), Henry Killinger,
Can't Get By on His $5 Million per Year Salary.
His Inside Information Has Made Him A Lot More.

Under his misleadership, WM lost nearly $1.9 billion in the
fourth quarter of 2007. Some believe it could lose $7 to $10 billion
in 2008. The bank will then be bankrupt.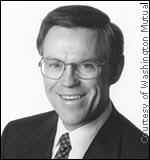 In 2006, WAMU's CEO was $14.3 million. Like Dillinger, he robbed his bank, because
"That's where the money is"

$5.07 Million and $15.26 Million in exercised options is the current salary of the Washington
Mutual's Chairman, Chief Executive Office and Chairman of Corporate Development,
Henry K. Killinger. The company's VP Jmaes B. Corcoran gets $2.78 million.
(Source: http://finance.yahoo.com/q/pr?s=WM )

Obscene? This is typical of high pay given to corporate executives, even when they have
just lost their shareholders billions and billions of dollars. Look at the chart of Washington Mutual
below. The stock has fallen 69% so far in 2007. This shows profoundly poor judement on the part
of this particular CEO. It certainly exemplifies the lack of any real accountability in corporate
board rooms.

But is he guilty of criminal insider trading? Maybe, he was just very lucky to have unloaded
so many Washington Mutual shares near the top. "Insider informed selling" is our interpretation
when a company's stock shows steadily negative (red) readings from the TigerSoft Accumulation Index.
Drops by this index below -.25 and serious underperformance in an otherwise rising general market
are usually sure signs that insiders are getting out of the stock themselves and telling their closest
associates to do the same, one way or another. Washington Mutual's stock (WM) makes that point
very well..

Here are the insider sales by Kerry K Killinger (known here as "KKK") since November
2006, as reported by Yahoo.

These are shares he got stock options to, cost $0, on January 19, 2007!
May 1, 2007 50,000 shares of WM @42-42.13 Proceeds = $2,103,100
. February 27, 2007 1,048 shares of WM Proceeds = not reported.
February 1, 2007 50,000 shares of WM @44.59-44.73 Proceeds = $2,233,000
January 19, 2007 12,021 shares of WM @44.67 Proceeds $537,000
January 8, 2007 16,130 shares of WM @45.31 Proceeds = $731,000

also
November 1, 2006 50,000 shares @42.28042.46 Proceeds= $2,119,000
( Source: http://finance.yahoo.com/q/it?s=WM )

More information:

It should be noted that Killington and Washington Mutual have been sued before for
insider trading. http://securities.stanford.edu/1031/WM04-01/20040720_f01c_SouthFerryLP2.pdf

KKK gives campaign contrinutions to both Democrats and Republicans. He wants access
no matter who wins.
6/26/2003 $1,000 to MIKE CRAPO FOR US SENATE
6/30/2003 $1,000 to SHELBY FOR U S SENATE (Democrat)
12/9/2005 $2,000 to KENNEDY FOR SENATE 2012 (Democrat)
(Source: http://query.nictusa.com/cgi-bin/ind_detail/KILLINGER|KERRY+K|SEATTLE|WA )
2/5/2007 $2300 TOM VILSACK FOR PRESIDENT (Democrat)
(Source: http://query.nictusa.com/cgi-bin/ind_detail/KILLINGER|KERRY|SEATTLE|WA )
2006 $4,596 FRIENDS FOR MIKE MCGAVICK (Republican - Idaho)
2007 $2,000 Chris Dodd for President
2000, 2004 George Bush




Washington Mutual TigerSoft Chart: 2007
TigerSoft Users Would Have Sold Out (and Sold Short)

TigerSoft spots insider selling mainly by watching the Tiger Accumulation Index. Its dropping below -.25
when the stock is under-performing the DJI (representing the general market) is the primary way we do this.
The redish-purple lines show these points in this chart.

When the Black TISI line (6/6/2007) drops into negative territory and the stock has closed below its now
falling 50-day ma, TigerSoft users know to consider the stock bearish, especially if it over-extended on the
upside. Additional Tiger Sell signals give more points to sell the stock short. Note how the cumulative
On-Balance-Volume (OBV) Line makes confirming new lows. This is a stock whose trust is now lacking.
It takes a long time and new management to rebuild it. Thus, the stock is still being dumped as 2007 ends.

============================= WM 2007 =========================================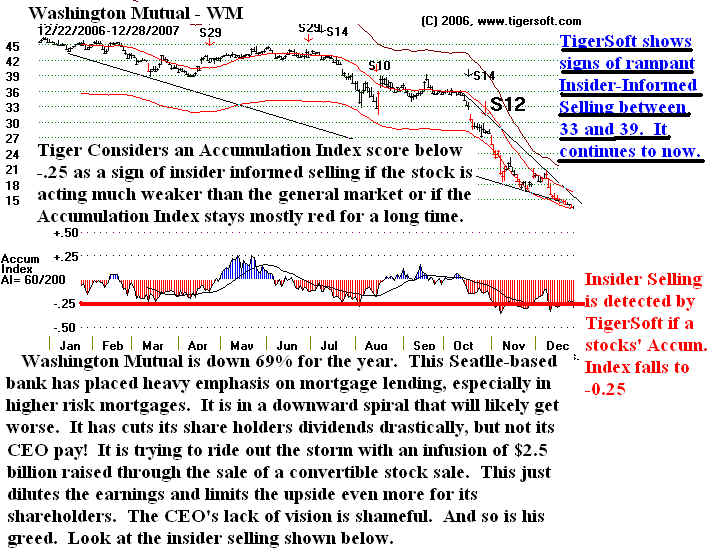 How To Look Up Insider Selling?

Yahoo is a good source for looking up insider transactions in your stocks. Here is the link
for Washington Mutual.
http://finance.yahoo.com/q/it?s=WM

Insider Selling by Robert Rubin at CitiGroup

You can just as easily look up those of Citigroup (C)
Among those listed as Clinton's Secretary of the Treasury, Robert E Rubin.
He paid $0 for these 124,250 shares. He got out at a time when TigerSoft shows
other savvy insiders were selling at the top!

22-Jan-07
RUBIN ROBERT E
Officer
77,500
Direct
Sale at $55.05 - $55.05 per share.
$4,266,0002

16-Jan-07
RUBIN ROBERT E
Officer
124,250
Direct
Acquisition (Non Open Market) at $0 per share.
N/A

19-Jun-06
RUBIN ROBERT E
Officer
196,624
Direct
Disposition (Non Open Market) at $48.36 - $48.36 per share.
$9,509,0002
19-Jun-06
RUBIN ROBERT E
Officer
234,353
Direct
Option Exercise at $33.44 - $33.44 per share.
$7,837,0002