TigerSoft News Service 7/14/2012 www.tigersoft.com

Big Banks
Same Old Story:
More Cheating, Fraud and Theft
Today, 7/14/2012, I start a catalogue of new reports of the criminal activity of big banks, much
which goes unpunished. Articles are posted here for those not worn out by the endless cycles of
greed that big banks show. I realize that there comes a point for many at which we achieve an
"overkill" condition, where everyone on the planet understands how crooked, selfish,
compassionless and traitorous are the heads of these monster banks. At that point, one
starts to believe that these articles were originally written more to flaunt the bank's
arrogant abuse of power and demoralize those who would oppose them than to hold the
center of American plutocracy to account.
Still, the links are posted here for those wanting a review. Most come from the New York Times
and Bloomberg News


====================================================================================
.7/15/2012 After gatting paid $5 million.Goldman Sachs Left The Creators of Dragon Speech
Recognition Software with No Advise. In December 1999, the husband and wifr creators of Dragon SPeech Recognition,"signed a five-page engagement letter drafted by Goldman. In it, Goldman pledged to provide "financial advice and assistance in connection with this potential transaction, which may include performing valuation analyses, searching for a purchaser acceptable to you, coordinating visits of potential purchasers, and assisting you in negotiating the financial aspects of the transaction." As a result, Goldman assigned four bankers, two in their 20s, one in his early 30s and a fourth mysterysupervisor who seems always to have been on vacation. Without any good advise from Goldman, all of Dragon was exchanged for shares in Belgium-based Lernout & Hauspie. This proved to be a colossal blunder, as Lernout & Hauspie went bankrupt six months later, in 2000.
See NYTimes article by LOREN FELDMAN

TigerSoft's Closing Power traded Goldman very profitably in 2011-2012.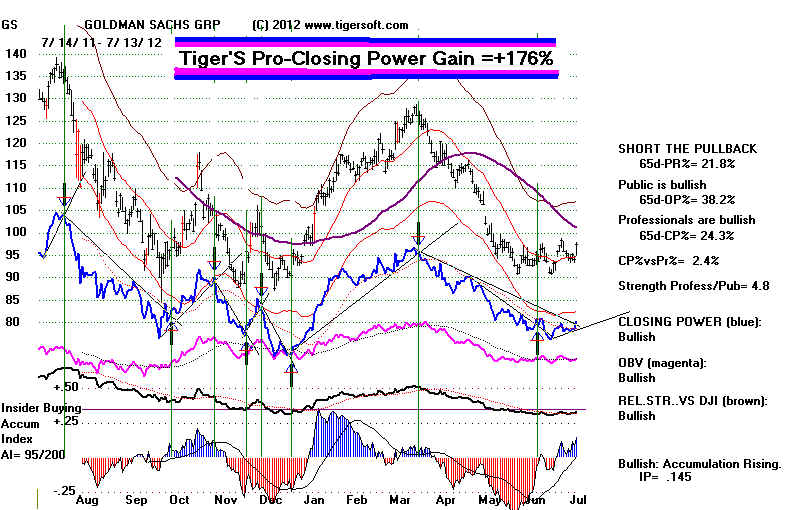 Why did Goldman not conduct any accounting inquiry into Lernout & Hauspie and alert the Dragon creators
of the false and utterly fabricated earnings that Lernout & Hauspie was reporting? They later claimed that
this was not their job. Yet a year ealier, Goldman analyst Robert Smithson was quoted in the Wall Street
Journal's Heard on The Street that Lernout & Hauspie's earnings were exaggerated. It was much worse.
They were utterly fictitious. See http://www.tomcoyner.com/how_high.htm


LSHPF Stock: $60 to $0 in 8 months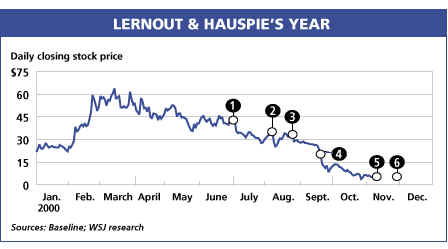 1. June 30: Lernout reports 1999 revenue of $143.2 million from South Korea and Singapore, up from less than $300,000 in the prior year.
2. Aug. 8: The Wall Street Journal reports some Korean customers claimed by L&H do no business with the company. Others said their purchases were smaller than L&H reported.
3. Aug. 24: CEO Gaston Bastiaens steps down; former Dictaphone CEO John Duerden steps in.
4. Sept. 21: WSJ reports SEC probe of L&H's financial statements. Follow-up story, Sept. 22.
5. Nov. 9: L&H says it will revise financial statements for two and a half years because of "errors and irregularities"; Jo Lernout and Pol Hauspie resign as co-chairmen; trading of L&H stock is suspended.
6. Nov. 29: L&H files for Chapter 11 bankruptcy-law protection
By LOREN FELDMAN
What does a financial giant owe to its clients? That question is at the heart of the battle between the founders of Dragon Systems and Goldman Sachs, their banker, in a sale that went horribly awry.


====================================================================================
7/14/2012 Visa and Master Card must pay $7.25 billion
Visa amd Master Card have agreed to drop certain policies that kept stores from steering their customers
to cheaper forms of payment. TigerSoft always charges less when payment is made by check
Using TigerSoft's Closing Power with Master Card Is Very Profitable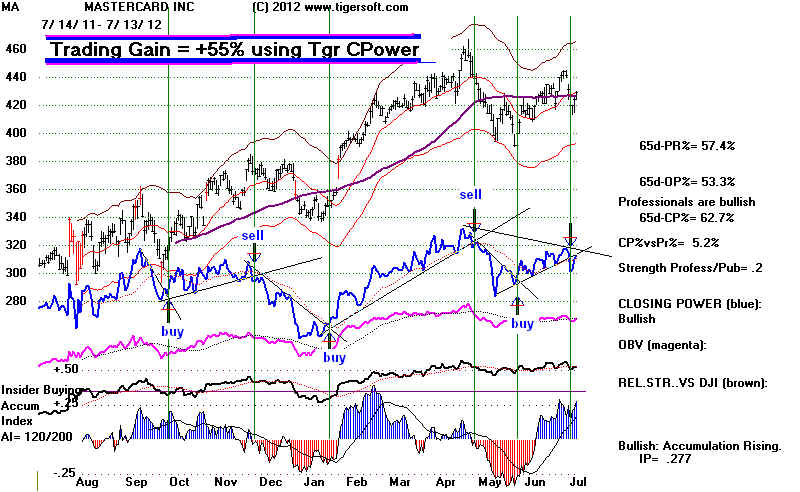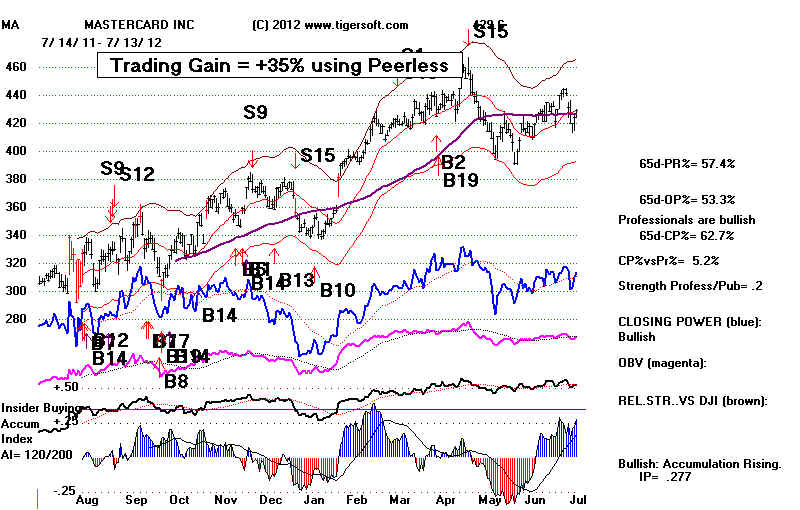 ====================================================================================
7/14/2012 The Jamie Diamond Scandal at JPM.
Now he admits that JPM's trading loss in just one position is $5 million.

Unctuous praise, not hard questions about JP Morgan's highly leveraged gambing
nillions away while being an FDIC backstopped bank that is too big to fail.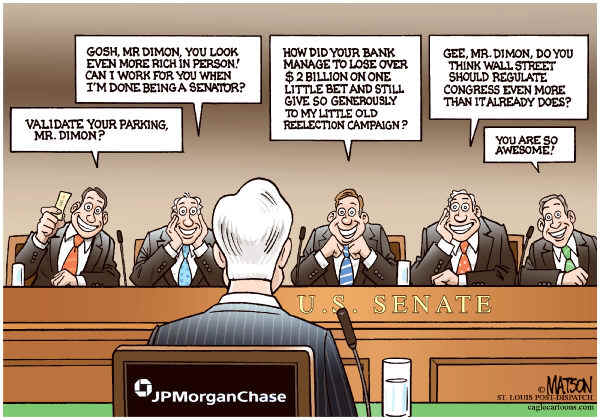 Source: http://www.politicalcartoons.com/cartoon/8f4b2ab6-3c08-49fc-8871-516dee3f6dbe.html

JP Morgan keeps raising the amount of its trading losses, as we predicted it would.
Our Hotline said, just watching the TigerSoft Closing Power. It will tell you the truth about the stock.
Look at how big the gains were just playing the Closing Power and Day Traders trends. TigerSoft's
CP measures professional buying and selling (as opposed to what the public is to do.
JPM and Tiger's Closing Power Trends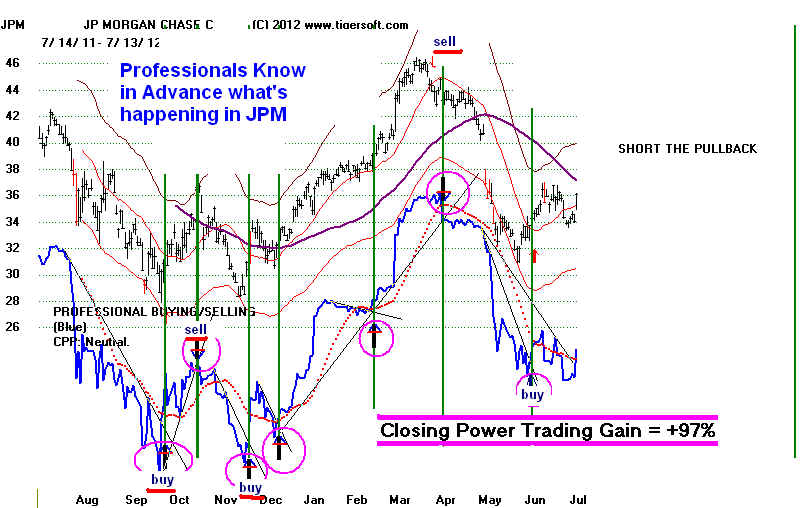 JPM and Tiger's Day Trader Trends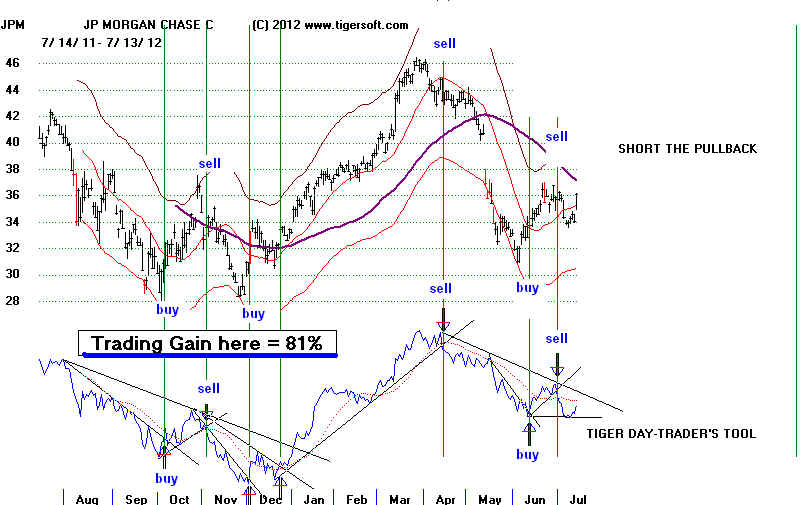 Will Jamie Dimon's $21 Million a Year Pay Be Docked?

Jamie Dimon certainly likes his enormous salary. But when it comes to taking responsibility for his failures,
he holds onto his pay very tightly and not giving any back. http://dealbook.nytimes.com/2012/07/13/jpmorgan-says-traders-obscured-losses-in-first-quarter/?nl=todaysheadlines&emc=edit_th_20120714
The real issue is why should a big bank with the federally insured desposits of millions of Americans
still be allowed, after 1929-1932 and 2007-2009, to operate like a casino? Diamond has pushed
for more and more bank trading, despite what happened in 2007-2009 when other banks used excessive
leverage and insufficient caution.
http://www.huffingtonpost.com/raymond-j-learsy/jamie-dimons-malign-influ_b_1671325.html
He chooses to gamble because that's the only way he can justify his exorbitant pay, which was $23 million in 2011. He rationalizes away any issues about this with the comforting thought that Wall Street banks are still too big to fail.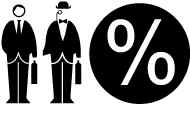 The Libor Scandal

JUNE 27, 2012 Barclays paid $450 million to settle accusations that it had tried to manipulate Libor rates.
Since then, its submitted rates have risen. The Libor is a benchmark interest rate that affects how
consumers and companies borrow money across the world. The rate is set by the British Bankers' Association
(B.B.A.), an industry group in London. The Libor is often used to price financial instruments like swaps
transactions and futures contracts. At least an estimated $350 trillion in derivatives and other financial products
are tied to it. Dduring the height of the financial crisis, Barclays submitted artificially low rates to give the
impression that the bank could borrow money more cheaply and was healthier than it was.


Emails from big banks
JULY 29, 2007
"Pls go for 5.36 libor again, very important that the setting comes as high as possible ... thanks."
— Trader in New York to submitter
SEPT. 13, 2006
"Hi Guys, We got a big position in 3m libor for the next 3 days. Can we please keep the lib or
fixing at 5.39 for the next few days. It would really help. We do not want it to fix any higher than that.
Tks a lot."
— Senior trader in New York to submitter
DEC. 14, 2006
"For Monday we are very long 3m cash here in NY and would like the setting to be set as low
as possible ... thanks"
— Trader in New York to submitter
http://www.nytimes.com/interactive/2012/07/10/business/dealbook/behind-the-libor-scandal.html
7/14/2012 NY Fed Was Aware of Banks' False Reporting of Interest Rates.
By MICHAEL J. DE LA MERCED and BEN PROTESS NY Times

LIBOR Manipulation